Banco do Brasil is the largest Brazilian bank by key banking metrics, with around 20% of the system's total loans. The group offers a complete range of banking products, including commercial and investment banking, consumer lending, credit cards, asset management and insurance products. As of December 31, 2016, the company had USD431bn in total assets, USD185bn in loans and USD137bn in deposits. Banco do Brasil, the oldest bank in Latin America, was founded in 1808.
With more than 5,000 branches and 17,000 points of services, Banco Do Brasil has the most extensive distribution network in Brazil. The group also has representative offices in the global financial hubs, including New York, London and Tokyo.
The bank is controlled by the Brazilian Federal Government, which holds a 57.2% stake in the company's equity. In addition, Banco do Brasil's pension fund, Caixa de Previdencia dos Funcionarios do Banco do Brasil, owns a 10% stake in the bank. Notably, according to the company, around 50% of the stock's free-float is held by foreign investors. Lazard Asset Management (LAZ) is the largest non-Brazilian shareholder with a 5% stake.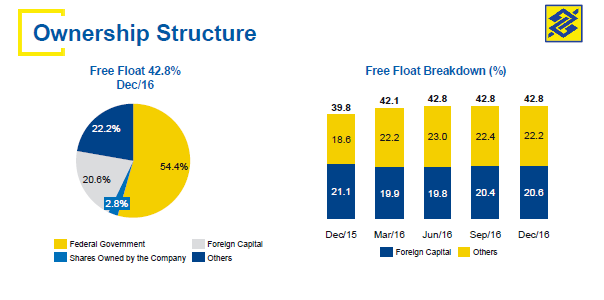 Source: Company data
Banco do Brasil is listed on the BM&F BOVESPA and it also trades in the U.S. through its ADR program in the over-the-counter market. The average daily trading volume of the ADR in the past twelve months has been around $1mn.